How To Change Your Mindset And Make It Stick, So You Stop Self-Sabotaging, Stop Procrastinating, Be More Productive, And See More Success In Your Life And Business, Faster!(Without Hiring An Expensive Coach, Spending Thousands Of Pounds On Premium Training Courses And Workshops, Spending Time Away From Loved Ones At An Expensive Retreat, Or Going Through Years Of Therapy!)
Start Seeing Results In As Little As 31 Days Or Less. If You Do Everything In The MindSelf Journal, Each And Every Day, And Don't Skip Anything. Or You Get Your Money Back.
I thought I had my shit together, but my life fell apart…
"Let me tell you a quick story…"
I'd been on benefits and out of employed work for 3 years after being made redundant. I felt trapped in a benefits system that was financially unsustainable. I was about to start my dream employed job, or so I thought…I was nervous, scared, and apprehensive, about leaving a benefits system that had been my life support for 3 years. I thought this new dream 'employed' job would be my ticket to financial freedom, as the pay was great and I would never have to worry about money ever again. I was set for life, or so I thought…
"Up until that point…"
She needed insulin or she would die!
"Then something happened that changed my life forever…"

I gave up what they call 'legacy' benefits in the UK, which I could never get again, to start my new employed dream job. Which scared the shit out of me because I had nothing to fall back onto if the job didn't work out.Although these benefits weren't sustainable, as my savings to make up the shortfall were rapidly decreasing, I felt a degree of security and comfort of this safety blanket that had been my lifeline for the last 3 years. But I was confident that I could do this job, as I had worked in a similar role before. So was looking forward to getting started.
"At the time, I had no idea the impact this would have. The problem was…"

On my first day of work I met my new employee. But as soon as we were alone she said she wouldn't abide by any rules she didn't like. Alarm bells were ringing throughout my entire body.This was a HUGE red flag.Something wasn't right… there was an eerie feeling to this and I didn't like it one bit.I raised the point with my manager but he backed up her point by saying there are no rules! And later reiterated this to me in front of her.Something strange was going on… but I had already left legacy benefits and felt compelled to stay in my new role, even though I knew something was off and wasn't right.It wasn't easy finding a job I could do with my disability, and if the job centre classed me as gainfully self-employed, despite my part-time income going out in expenses, so I couldn't take a wage, I wouldn't be able to get any benefits for food or rent.Going back to live with my parents wasn't option, so I could end up homeless, starving, and on the streets!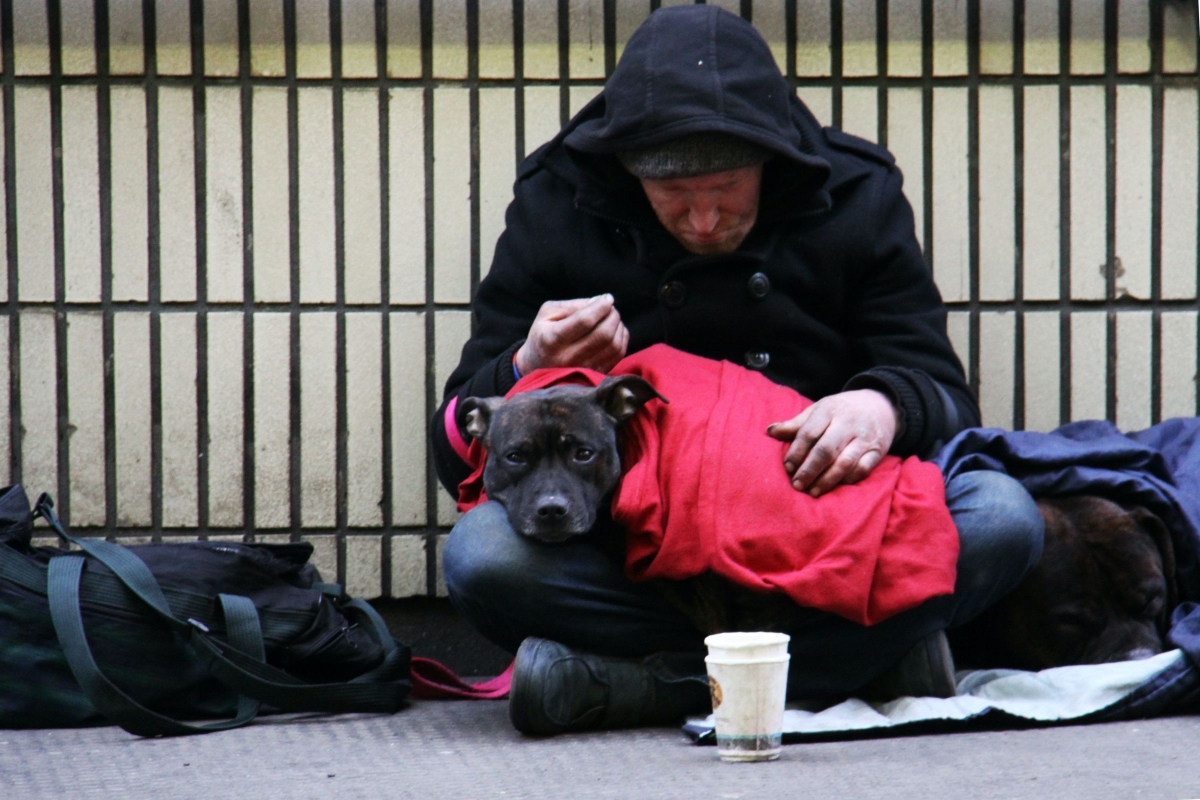 I didn't want to end up homeless, starving, and on the streets!
"Just when I thought things couldn't get any worse…"
But it didn't stop there… I was in shock and disbelief!
She told me she didn't want to be managed. She had 40 years of experience! Like that made it okay for her to tell me what to do and not allow me to do my job.
She seemed to think swearing at me and belittling me, outrightly saying I was shit at managing, organising, and cleaning, was acceptable. Even though I made it clear it wasn't. And ironically this was after she wouldn't allow me to manage her and I was told not to! You can't manage or coach someone, who doesn't want to be managed or coached!
I found out later she wasn't even doing all the cleaning she was supposed to do and some drawers were still full of sawdust from workmen a few days prior… which she refused to do, and of course made into an argument about me not cleaning two fingerprints off a mirror while I was in training! This is what gaslighters do. Deflect their shortcomings onto you.
When I told her about my fibromyalgia disability. She told me she is surprised they employed someone like me, when they have got more abled-bodied people who could do the job. I told her they can make reasonable adjustments, she said either people can do the job, or they can't, and if they can't they should leave… I was absolutely gobsmacked that she outrightly discriminated against my disability.
To make matters worse, she asked me if the guy who owned the company, had a disabled person in his family… I was shocked!
"I was on a downward slide because…"
"Needless to say, I felt like…"
"Lockdown happened. I raised a grievance, but what happened next was devastating..."
"That's when I truly hit rock bottom…"
"This is important…"
"This meant…"
"That's when I decided…"
"Then, something happened that changed everything…"
"As I searched for answers, it hit me like a ton of bricks and I had a revelation…"
Something a mindset coach said. He talked about state and how many people attend personal development courses, training, workshops and seminars, but the changes they make at these events, rarely stick. This is because they are put in a change of state at that time. But when the event is over, they get out of that change of state and go back to their old state and way of being.
He went onto explaining how we have 3 parts to our brain:
It's the super-conscious part of our brain that we need to change. This is where patterns of behaviour from childhood and conditioning from the ages of 0-7 years usually takes place, and if we want to rewire our brain for success and happiness, we need to rewire this part of our brain, and this is done through repetition of the right things – which is why I created my revolutionary ©MindSelf E-Journal, to do just that.
"When I made this discovery, it was my biggest aha moment, and everything just fell into place…"
I thought back to all the past life-changing events that I ever went to. When I saw people live on stage, such as Tony Robbins, Brendon Burchard and Andy Harrington. They all put the audience into a peak emotional state, but when the event was over, many of those people got out of that state, they stopped doing the things they learnt, and went back to their 'normal' lives, and their old brain habits and patterns which no longer served them. It wasn't enough to consume their content at the time, in order to make these new changes to their lives stick, they would need to be in a permanently new state of being. Where the new habits and patterns of behaviour, would thrive and flourish.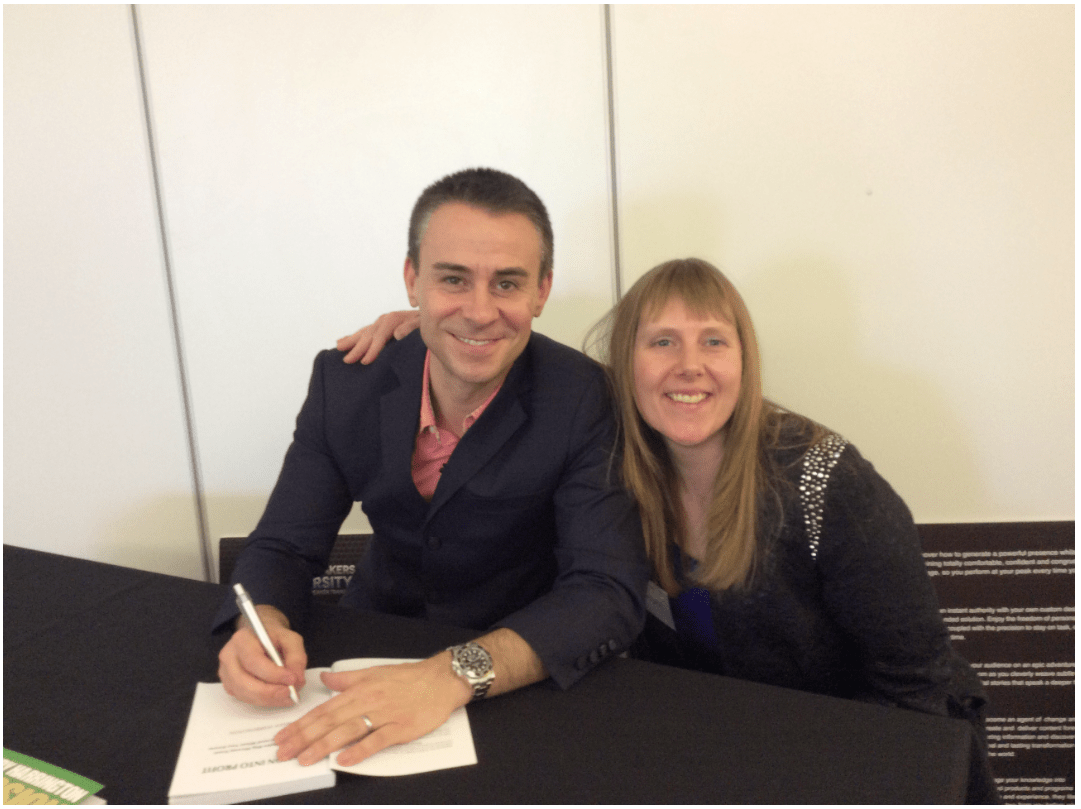 Andy Harrington and Sandra Bellamy at his Stand and Deliver Speaker Training, getting Andy's Passion Into Profit book signed.
That was the spark / the kick in the tail I needed.
I was scared but optimistic.
I knew I was on the right path.
"Here's what happened next…"
"Then one day I looked up and realised I could now…"
Create a new version of this ©MindSelf Journal every month, with different inspirational quotes and questions for your soul every day.
Which will do 4 things:

1) It gives you a constant fresh supply of daily inspiration into your life, so you not only feel inspired to start your day, you save time by not wasting time on Facebook trying to find the perfect inspirational quote to start your day and get distracted in the process. Then keep scrolling for hours and decrease your productivity and energy levels. And you're like, "Where did my day go?"

2) It enables you to accelerate your motivation, as it satisfies your brain's need for variety and thirst for new stimulus, and it will stop you wasting your time trying to obtain this from social media. Which in turn will speed up your productivity.

3) Keep you accountable to doing the work each month, because there is always something new and fresh work on each day, besides the right things to do repeatedly each day, to ensure you rewire your brain for success and happiness.

4) These quotes and questions enables you to reflect and bring new self-awareness and insights into your life. These new revelations will give you some A-ha moments, and keep pushing you to that next level, so you can continue to grow.
"I was forever changed by the fact that…"
And now I can help others do the same.
"I now felt like a new person…"
My revolutionary ©MindSelf Journal can do the same for you.
"And that's why I knew I couldn't stop there. I realised…"
I needed to make this journal available to as many people as possible and not keep this to myself a moment longer, so you can discover how to do what I have done and make it even easier for you to follow in my footsteps and rewire your brain for success and happiness, and make it stick.
This revolutionary ©MindSelf Journal is a premium E-TOOL that will enable you to:
Stop procrastinating, enables you to boost your productivity and get more shit done faster, so you can achieve quicker results.
Stop that constant seesaw of emotions, that's like a rope around your neck and constantly weighing you down. So you can be more stable and self-assured and move forward faster.
Permanently rewire your brain for success and happiness on a deeper super-conscious level through a variety of written, physical, and mental exercises, affirmations, and planners. So you stop wasting your time and money, over and over again, going to training courses, seminars, and workshops, that you pay hundreds or thousands of pounds for, but fail to leave you with lasting change.
Just imagine how that will feel?
"Now I am…"
Focusing on creating TOOLS people can use to do what was previously "impossible".
"This makes me feel…"
I have a new lease of life, there's so much more for me to do… I'm just getting started!
"Now I'm able to help…"
Entrepreneurs, solopreneurs, affiliate marketers, coaches, mentors, speakers, authors, trainers, creatives; people just like you, go from dead stuck, with negative emotions spiralling out of control and ruining your life, to raising your vibration in multiple aspects of your life, and making those vibrations stick, so that success becomes inevitable.
Right now, I am offering you the best tool I have created to date, the ©MindSelf Journal.
At a fraction of the cost of what I should be charging and will be charging for this in the future, at a crazy no-brainer, super-special, initial early bird promotional launch price of just $25, yes you did read right, for just $25 this ©MindSelf Journal will change your life, or your money back. It's a *549 page premium E-Journal that you can download instantly from your own private members area on Asexualise Academy Club, print off, and start using it right away.
Your ©MindSelf Journal is undated inside, so you can start your ©MindSelf Journal part way though a month and not waste any pages. Then continue the next month with a new downloaded version, as soon as that one has finished.

This incredible and revolutionary monthly ©MindSelf Journal, has all of the affirmations, mind-rewiring exercises, productivity and clarification planners, you will ever need for success and happiness.
"What I'd like you to take away from all this is…"
So click the button below now, to get your ©MindSelf E-Journal, so you can start using it instantly and create long-lasting, impactful change in your life, for the better forever.
Unless you get your mindset to work in your favour, no amount of skills, life experience and work experience, will stop you from self-sabotaging and becoming your own work enemy in pursuit of your dreams. If you want to become your best self to achieve your dreams, you have to work on your mind, because that's the key to your success.

Your mindset affects your self-worth, your business, your income, your relationships, and your day-to-day activities and life. I'm on a mission to help people consciously create the life of their dreams by working on their mindset. This starts with rewiring your brain for success, by getting rid of bad habits and negative thought patterns and behaviours, and replacing them with some new, positive, and healthy ones.
This revolutionary life-changing ©MindSelf E-Journal, is a tool designed to rewire your brain for success and happiness, in multiple aspects of your life and business. It will help you gain clarity, be more organised, increase your positivity and productivity, so you can feel more happier and successful, within your mind and self. MindSelf.

Through daily repetition of new and better habits; where you focus on an abundance of things you do have to be grateful for; positive affirmations to boost your self-worth, self-esteem, and ultimately your joy, happiness, and increase your productivity, and ultimately your bank balance, and to help you to have healthier and happier relationships with the ones you love.

Each day has a different inspirational quote and question for your soul, to enable you to self-love more, to self-reflect, to become more self-aware, and to grow your self. The more you become self-aware, the more you can consciously create the life of your dreams by becoming more an observer of your, thoughts, feelings, and emotions, and why you do the things you do. You can't fix what you don't know or understand.

This MindSelf Journal has 31 days of content, but the pages have purposefully got space for you to add your own day and date to each one, where applicable, in case you start using your journal part way though the month, so as not to waste any pages. This is especially true for your daily inspirational quotes and questions for your soul and your Daily Planner. Also, your Weekly Planner, which is available for days 1, 8, 15, 22, and 29, purposefully has space for you to write the name of the days in, so you can start your week at whatever day is convenient to you. Your planners help plan and utilise your day, without wasting any time.
There are also 70 extra pages where you can add additional answers to the inspirational quotes and questions, which vary every day from month-to-month; you can create your own happy list and positive affirmations, you can share whatever is on your mind to free it up, and write more creative ideas that spring to mind, and plan your day out in even more detail.
Each day of the week has:
PAGE A
List 7 things you are grateful for as soon as you wake up. To get you into the habit of having an abundance mindset, and to foster positivity as soon as you wake up.
This helps rewire your brain from negative to positive.
PAGE B
Positive affirmations for eliminating self-doubt, and fostering trust within yourself. If you doubt yourself, you will procrastinate, not take enough action, and second-guess everything you do, leading to self-sabotage, which holds you back from making any real progress in your life and business, leading you to longing for something more, but not knowing how to obtain it.
Use these specific Law Of Attraction affirmations to rewire your brain for self–belief, self-trust, and to help you to make decisions more confidently and decisively, so you can move forward faster and make more progress quicker in your life and business.

PAGE C
Positive affirmations to boost your self-image and bask in your sexy power and awesomeness of the individual contours of your body, that make up unique you.
You may have found it hard to look at yourself naked in the mirror, but right now, that's all about to change for the better, forever.
If you feel more confident in your own body and skin, that will naturally radiant throughout your whole being and more and more people will be attracted to you like a magnet. When you start finding yourself more and more attractive, you instantly become more attractive to others. Because your value goes up in your own mind, so too, does it in other's minds.
PAGE D
Positive affirmations to boost your productivity.
The power of the Law Of Action.
It's great to have a dream, but without taking any action, that dream is unlikely to become a reality.
Fears and procrastination can hold you back from what you truly want in your life.
So it's essential you get into the right mindset for productivity. The more you take action, the more momentum builds and the more confident you become, so the more action you will take.
These specific Law Of Action affirmations are designed to rewire your brain to think and feel more positively about getting things done, so they become more of a pleasure than a chore.
This increases your productivity, so you can move forward more confidently in your life and make more progress to get s*it done faster, more efficiently, more effectively and more effortlessly.
(I call these the 3 E's.)
PAGE E
Wealth affirmations. You might have been taught negative connotations in regard to making money, such as money is the root of all evil, money doesn't grow on trees, or it's greedy to want too much money. These negative connotations when reiterated over and over again, stop you from forming a healthy relationship with money and hold you back from charging your worth, and often prevent you from getting the money you truly desire and seek.
These affirmations, some of which are taken from T. Harv Eker's Millionaire Mind Intensive live event training for rewiring and mastering your mind in regard to money, which I have been to – will rewire your brain for thinking more positively about money, for increasing your own value in regard to your worthiness in obtaining it, and increasing the value you give to others in your own eyes.
If you are able to consistently believe and feel, that the value you give to others is always worth far more than what you charge, because the transformation you enable them to have is priceless, it will give you increased confidence to value your own worth more highly and take ownership of your financial success.

PAGE F
These Law Of Attraction self-love affirmations are essential for increasing your own value and self-worth, and for attracting and receiving loving relationships into your life.
If you're feeling good about yourself and that people are loving you and wanting to talk to you and be in your company, this will not only help you in your personal relationships with loved ones, family and friends, but also in attracting the right people for your business and to help make you wealthy.
Say these affirmations with your hand on your heart in front of a mirror and feel the power of an abundance of love flowing deep within your soul, and throughout every cell in your body. Now close your eyes. It's like bathing in a sea of love. Extremely powerful.

PAGE G
Every day you will list 12 things you love about yourself. This will increase your self-value and self-worth.
The more you love yourself, the more you will feel better in your own company, the more you will be happy and at peace with who you are; stable, strong, and secure within your own soul.
The more you find things to love about yourself, the more attractive you will feel and the more confidence you will create within you. The more attractive and confident you feel in your inner world, the more you become attractive to others, because you attract what you are. That's the power of Law Of Attraction.

PAGE H
Trusting your own intuition is essential for living your own life purpose and designing a life that you adore.
It's easy to get caught up in the noise of other's lives and what they deem is the best and right thing for you to do with yours.
But once you start tapping into your own intuition and allow yourself to trust it and for it to lead your life, instead of having other's push their own agenda's on your life and try to lead your life for you, you can see the magic and wonder unfold, as you develop a strong sense of inner knowing and guidance, that everything is always working out for you in divine timing, and begin to say no to others, to get the happiness you truly deserve, love, and crave.

PAGE I
One way of hearing your intuition more and more and tapping into your personal power, is to ask yourself; what is your intuition telling you right now?
This page is designed to ask you this question on a daily basis so you can tap into your soul energy and ask it what to do next.
This will develop a greater sense of true self-worth and self-reliance within you, so you make better decisions on how to live your best life, which is in keeping with your soul values and what matter most to you.
Tapping into your intuition will enable you to get out of your comfort zone, push through your fears and boundaries, and achieve things before, which you never thought possible. It will help you to believe in your own abilities to work things out and to rise to unforeseen challenges along the way to living the life of your dreams.

PAGE J
Happiness is an internal job.
It's important you create your own happiness in your life and don't rely on other people for it; otherwise you give away your personal power.
Every day this page is designed to get you to focus on what makes you happy.
Being happy and staying happy is like a muscle you need to exercise daily, by incorporating as many things as possible that make you happy into each and every day of your life, it will help you to feel good and better for longer and help you to increase your value and self-worth. It will give you the energy and willpower to do more and live life to the fullest. So you will procrastinate less and get more s*it done as a result, which will make you feel better about yourself as you increase your life satisfaction and fulfilment.
PAGE K
If you've read World Leading High Performance Coach Brendon Burchard's High Performance Habits book on how to create an extraordinary life, you will know that without clarity, you will be directionless, procrastinate, and feel stuck and unfilled in life.
Brendon says:
"Clarity on who you are is associated with overall self-esteem. This means that how positive you feel about yourself, is tied to how well you know yourself. On the flip side a lack of clarity is strongly associated with neuroticism and negative emotions. That's why self-awareness is so key to initial success. You have to know who you are, what you value… and where you want to go. This kind of knowledge makes you feel better about yourself and life… Studies show that having a specific plan attached to your goals – knowing when and where you will do something – can more than double the likelihood of achieving a challenging goal."
This is what page K is for, so you can get crystal clear on what your intention is for each and every day, and what you want to achieve. Having intention, creates purpose and direction, which gives meaning to your day, and creates drive and ambition to see a project or task through to completion.
PAGE M
Keeps you on track and crystal clear on what you want to do for the next day, so you are already prepared for it, and have offloaded any pending to-dos, so you can sleep more soundly at night, by having a greater sense of direction, control over your life and business, and inner peace knowing this.
Both the weekly and daily planners double the likelihood of achieving your goals faster, with clarity of intention, and a specific plan attached to your goals.

PAGE L
Is where you reflect on your day and get chance to celebrate your own successes, however big or small.
Self-recognition of your achievements is vital for your health and wellbeing.
By taking notice of your accomplishments, you value your own worth more, by making yourself seen and heard more by your self. Which increases self-appreciation and self-satisfaction. It helps you to self-love more, by realising all of the skills, experiences, and special qualities you have, that enable you to achieve all that you do.
When you celebrate how far you have come and what you have achieved, this creates a work and reward set up in your brain, so when you have achieved something and taken notice of that, it empowers you to keep moving forward in your life and have greater successes.
PAGES 1-31
Each day for 31 days, (or however many days there are in that month) you have an inspirational quote and question for your soul.
This inspirational quote and question changes every month, and is designed to:
Bring greater self-awareness, to give you more personal power.
Help make your life happier, brighter, and feel good!
Help you reflect on yourself and your life, to understand yourself better.
Give you personal insights.
Help you become a better version of yourself.
Help you to feel inspired, motivated, and enlightened each and every day, without having to waste time scrolling through Facebook or other social media, to get your daily does of inspiration, then going off on tangents so you get nothing done.
Foster positive emotions on a daily basis.
Activate a more positive mindset, daily.
Encourage new and better habits, so you can live the life of your dreams.
CLICK HERE NOW TO GET YOUR ©MINDSELF PREMIUM E-JOURNAL
"Why is it so inexpensive? "
I'm doing this $25 deal, so I can help as many people like you as possible.
Because I don't want what happened to me, to happened to you.
Just when I thought I had my shit together, my life fell apart. Don't take the same mistake I did.
If this is your first time shopping with me, then I want to make it as easy as possible for you to say yes, because I know how life-changing this will be for you.
It would be great to get some case studies too, so after you have done the work in the ©MindSelf Journal, if you want your case study and business to featured on the sales page for the MindSelf Journal, just shoot me a message, titled "I want my MindSelf case study to be featured" to sandrabellamygroup@gmail.com I reserve the right to choose whether to feature yours or not, subject to space limit and content.
Got any questions? Email me at sandrabellamygroup@gmail.com with the subject line "MindSelf Journal questions."
"40 Day money back guarantee…"
And I am currently throwing in a 40 day money back guarantee.
So if you have followed all of the instructions in the ©MindSelf Journal, done everything every day for 31 days straight, and if for some reason you are not entirely satisfied and you don't feel more productive and happier as a result. Then just shoot me a message to sandrabellamygroup@gmail.com with the title "MindSelf Journal I want my money back" with photographic or video proof of you having done the work, then I will refund your money back in full. You will lose access to your private members area on our ©MindSelf Journal Club membership site, and you won't be able to download any more copies of the journal or bonus. But you still get to keep this life-changing MindSelf Journal you already downloaded, and the bonus that comes with it, as my way of saying thanks for trying it.
Don't delay, hit the button below now, and change your life today, so you can:
Stop self-sabotaging and stop self-doubting.
Stop procrastinating.
Boost your productivity.
Be open to new and better opportunities.
Feel better about yourself and your life.
Boost your confidence.
Increase your self-esteem.
Feel better about your body.
Have more clarity, to make more informed and better decisions.
Stop that constant, nagging seesaw of emotions, that's like a rope around your neck and constantly weighing you down.
Permanently, make these changes stick.
If you're fed up with being on a hamster wheel of unstable emotions, insecurity, self-doubt, under-confidence and instability, and you're ready to move your life forward and get out of this rut for good, invest in yourself and lock in your special monthly MindSelf Journal membership now, so you can stop feeling bad and start feeling good. I know you can do this, I'm rooting for you! And I'm with you! You got this! Click the button below to get your ©Mindset Journal right now. Remember, you can get your money back, as you are backed by my 40 day money back guarantee. So you have nothing to lose and everything to gain. Click the button below to get your ©Mindset Journal right now.